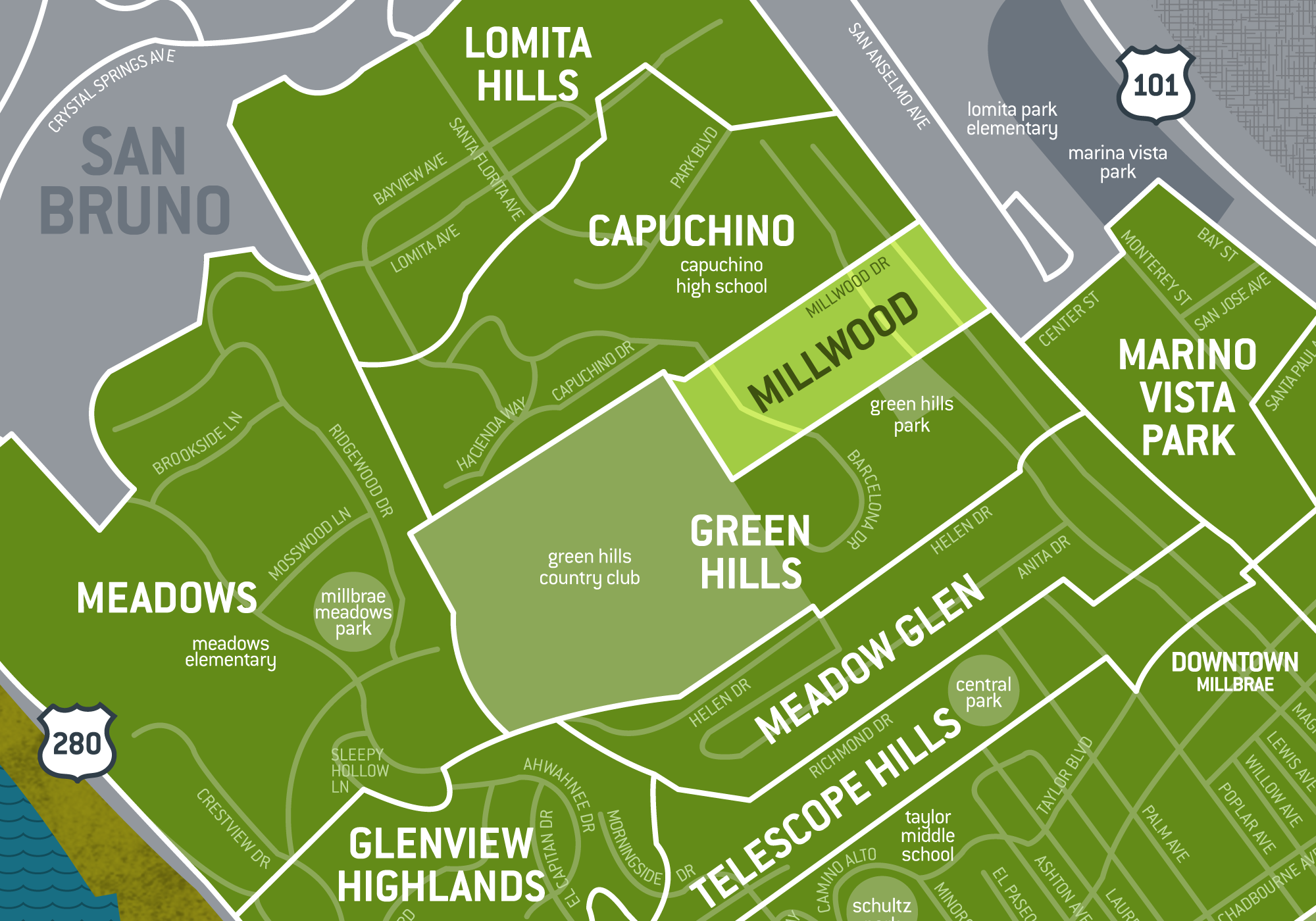 Instead, Millwood was left as-is: a small neighborhood comprised of moderately-sized one and two story homes built in the early 1950s, an orderly, suburban neighborhood bordered by three notable landmarks: Green Hills Park, Capuchino High School and the Green Hills Country Club. Homes in this neighborhood are all of a similar vintage. Originally the property of a few families whose business was the grow flowers for the San Francisco and Peninsula market, it was all gradually sold off and subdivided. Post-war tracts of homes began appearing in Millwood shortly after Millbrae incorporated, in 1948.
Millwood real estate may have started out as the "next new thing," but over time Millwood has grown into a mature, stable neighborhood whose homes have the "vintage charm" homebuyers crave. Ranch, two-story and split-level homes with two, three and four bedrooms and two car garages sprawl across Millwood's rolling hills and narrow cul-de-sacs, boasting fireplaces, hardwood floors, arched doorways and other era-specific details. Some houses have been expanded, adding to their original 1,200 to 2,000 square feet of living space. Millwood homes for sale can change hands for anywhere from $1.4 to $1.8 million, and sales can be rare.
One of only a few Millbrae neighborhoods to combine suburban-style serenity with easy downtown access, Millwood is less than a mile from Broadway's shopping and dining opportunities, an easy walk to Safeway and Trader Joe's and the Millbrae public library. Perhaps it lacks the breathtaking views of Mills Estates and the pre-war Mediterranean homes of Millbrae Highlands, but Millwood has plenty to offer the mid-level homebuyer.
Home Data
per tax records
| | |
| --- | --- |
| Single Family Homes | |
| 1 Bedroom Homes | 0 |
| 2 Bedroom Homes | 22 |
| 3 Bedroom Homes | 188 |
| 4 Bedroom Homes | 28 |
| 5+ Bedroom Homes | 11 |
| Condos/Townhomes | 109 |
| Duplex | 24 |
Price Data
| | |
| --- | --- |
| Year | 2021 |
| Number of Sales | 6 |
| Percent List Price Received | 114.3% |
| Median Sales Price | $1,910,000 |
| Average Sale Price | $1,996,000 |
| Lowest Sale Price | $1,630,000 |
| Highest Sale Price | $2,428,000 |