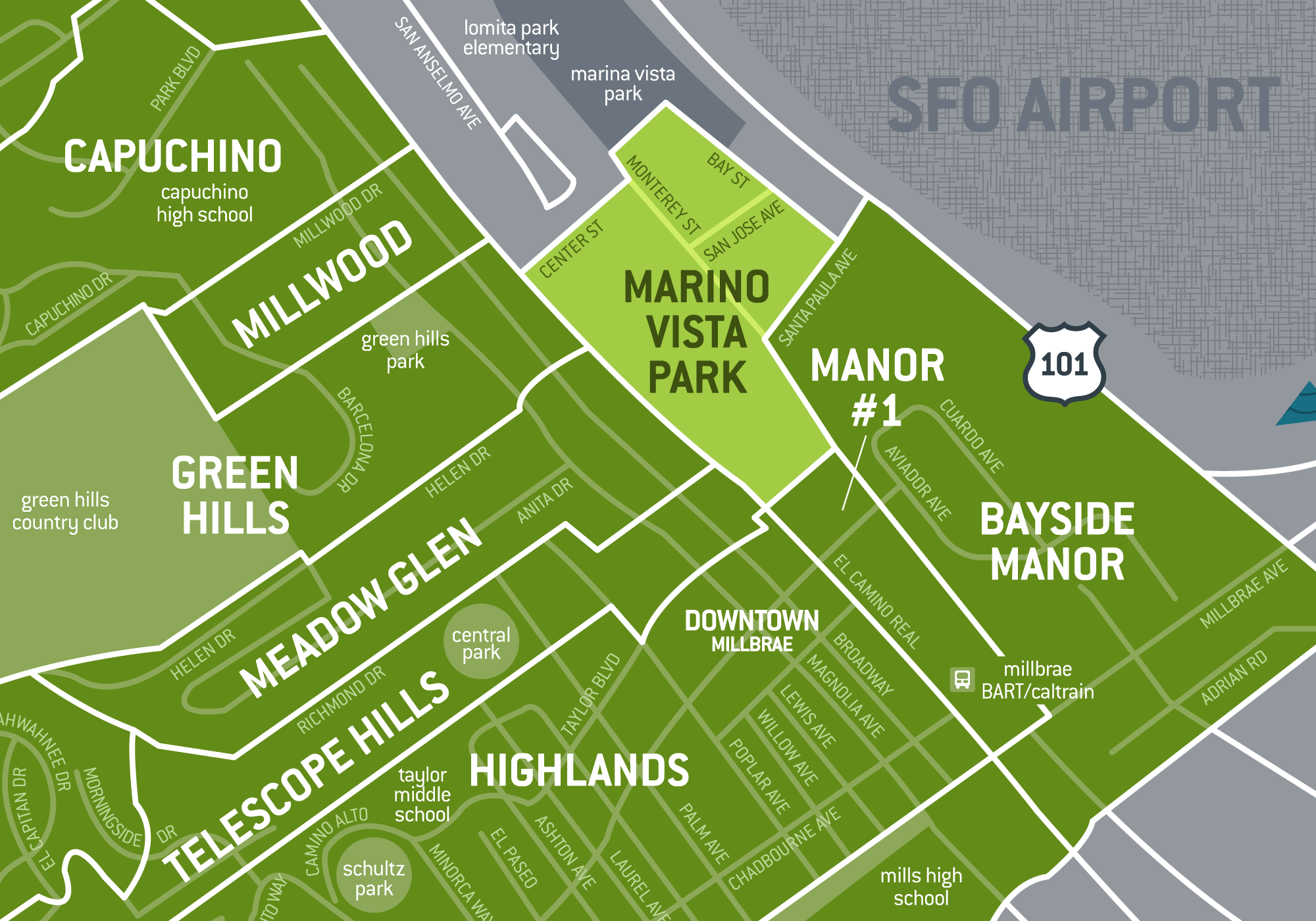 Homes in Marino Vista Park are often advertised as being the "most affordable house(s) in Millbrae." It is not unheard-of for a single-family home to change hands for less than $700,000 – due in part to the neighborhood's overall affordability and in part to its very small homes, some clocking in at well under 1,000 square feet. A recent neighborhood median found the neighborhood just under $1.1 million.
The bulk of homes in the neighborhood right near the park are two and three bedroom, single-story homes with attached garages and between 1,000 and 1,500 square feet of living space. Lots were small, prices were low – two truths that remain to the present day.
The rest of Marino Vista Park is less consistent. It is comprised of one-off homes, some dating into the 1940s, others edging into the 1960s, and a number of low-rise apartment buildings. The neighborhood is next to El Camino Real and the Millbrae Racquet Club and is within the boundaries for Millbrae schools, a major selling point for a North Millbrae neighborhood. And while Marino Vista Park isn't one of Millbrae's highest-profile neighborhoods, it may hold within its boundaries some of the town's greatest secrets, for it was at the corner of Center Street and El Camino Real, now at the northwest corner of Marino Vista Park, that the legendary 16 Mile House originally stood.
Home Data
per tax records
| | |
| --- | --- |
| Single Family Homes | |
| 1 Bedroom Homes | 6 |
| 2 Bedroom Homes | 34 |
| 3 Bedroom Homes | 100 |
| 4 Bedroom Homes | 8 |
| 5+ Bedroom Homes | 3 |
| Condos/Townhomes | 10 |
| Duplex | 37 |
Price Data
| | |
| --- | --- |
| Year | 2021 |
| Number of Sales | 1 |
| Percent List Price Received | 105.0% |
| Median Sales Price | $1,080,000 |
| Average Sale Price | $1,080,000 |
| Lowest Sale Price | $1,080,000 |
| Highest Sale Price | $1,080,000 |