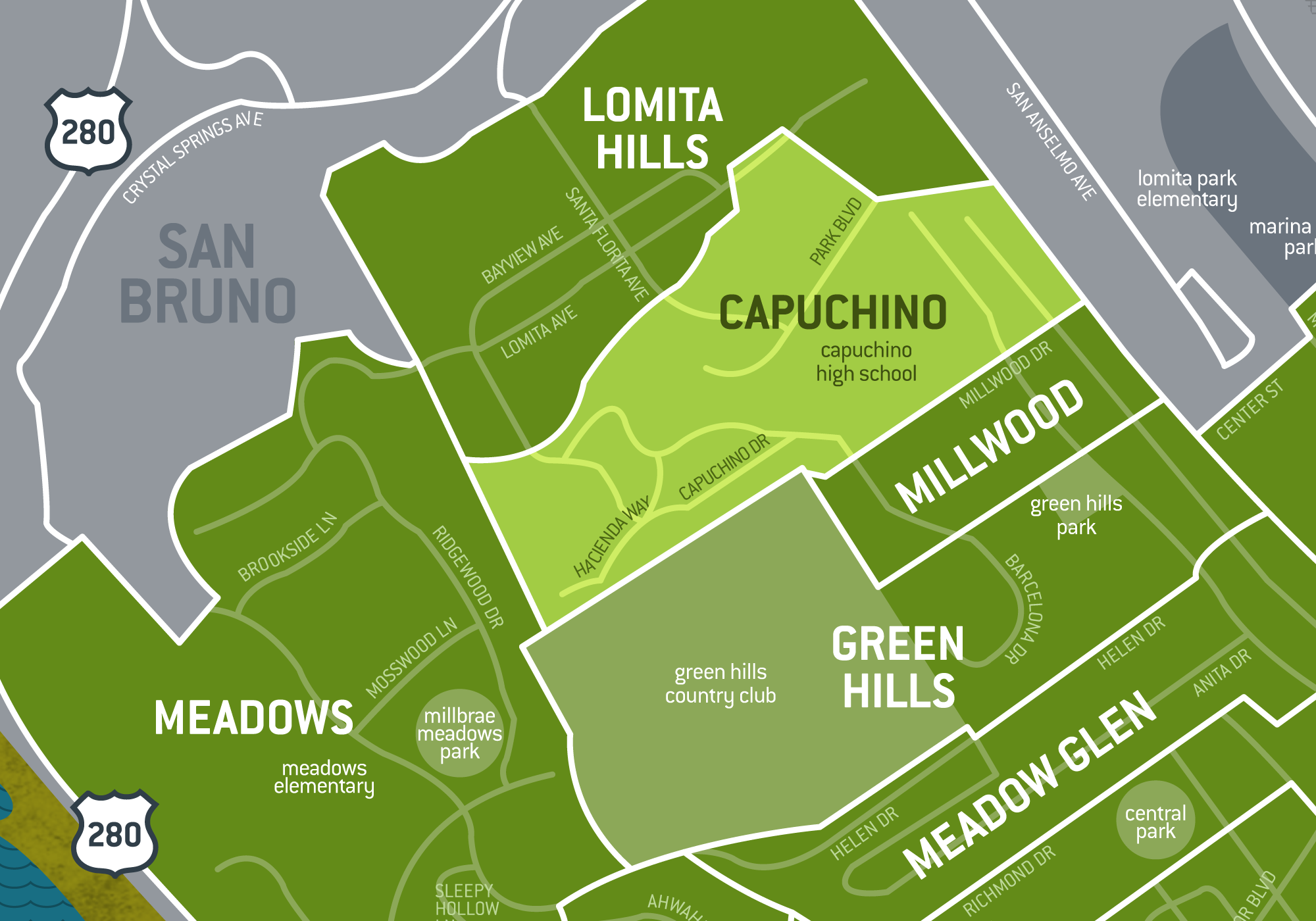 The neighborhood shares its name with Capuchino High School and with a small commercial section of El Camino Real and Park Boulevard. There are many neighborhoods located within walking distance of downtown Millbrae, but Capuchino is the city's only residential district that includes a smattering of retail and shops within its borders.
Capuchino High School is officially located in San Bruno. It is surrounded by Millbrae on three sides, however. It opened in 1950, a few years into San Mateo County's greatest period of growth. The school (and the neighborhood) takes its name not from the frothy coffee drink but from the Rancho del Capuchino, an original Spanish land grant ranch.
Real estate in the Capuchino area is similar to that found in surrounding neighborhoods like Lomita Hills and Millwood. The neighborhood is full of post-war homes that grow larger as they move uphill to the west. Homes for sale in the "flatlands," three-bedroom, one or two bath ranchers with between 1,000 and 1,500 square feet of living space, have been selling for between $1.7 and $1.9.
Homes to the west can sell for considerably more. Many were built concurrently with their humbler siblings to the east – during the years between 1946 and 1956 – but they've been expanded and remodeled. Some now boast as much as 3,000 square feet of space and up to five bedrooms. Here you will find view properties on large lots changing hands up to and over $2 million. Add to these a smattering of new construction and you have the beginnings of a Mills Estate-esque high-end neighborhood.
Between the 34-acre Capuchino High School campus, the fairways of the adjacent Green Hills Country Club and an abundance of mature greenery, Capuchino provides a calming, green atmosphere for its residents, combining with its small commercial strip and proto-suburban layout to create a unique personality.

Home Data
per tax records
| | |
| --- | --- |
| Single Family Homes | |
| 1 Bedroom Homes | 0 |
| 2 Bedroom Homes | 54 |
| 3 Bedroom Homes | 327 |
| 4 Bedroom Homes | 81 |
| 5+ Bedroom Homes | 16 |
| Condos/Townhomes | 0 |
| Duplex | 2 |
Price Data
| | |
| --- | --- |
| Year | 2021 |
| Number of Sales | 18 |
| Percent List Price Received | 114.2% |
| Median Sales Price | $1,855,000 |
| Average Sale Price | $1,950,000 |
| Lowest Sale Price | $1,450,000 |
| Highest Sale Price | $3,200,000 |