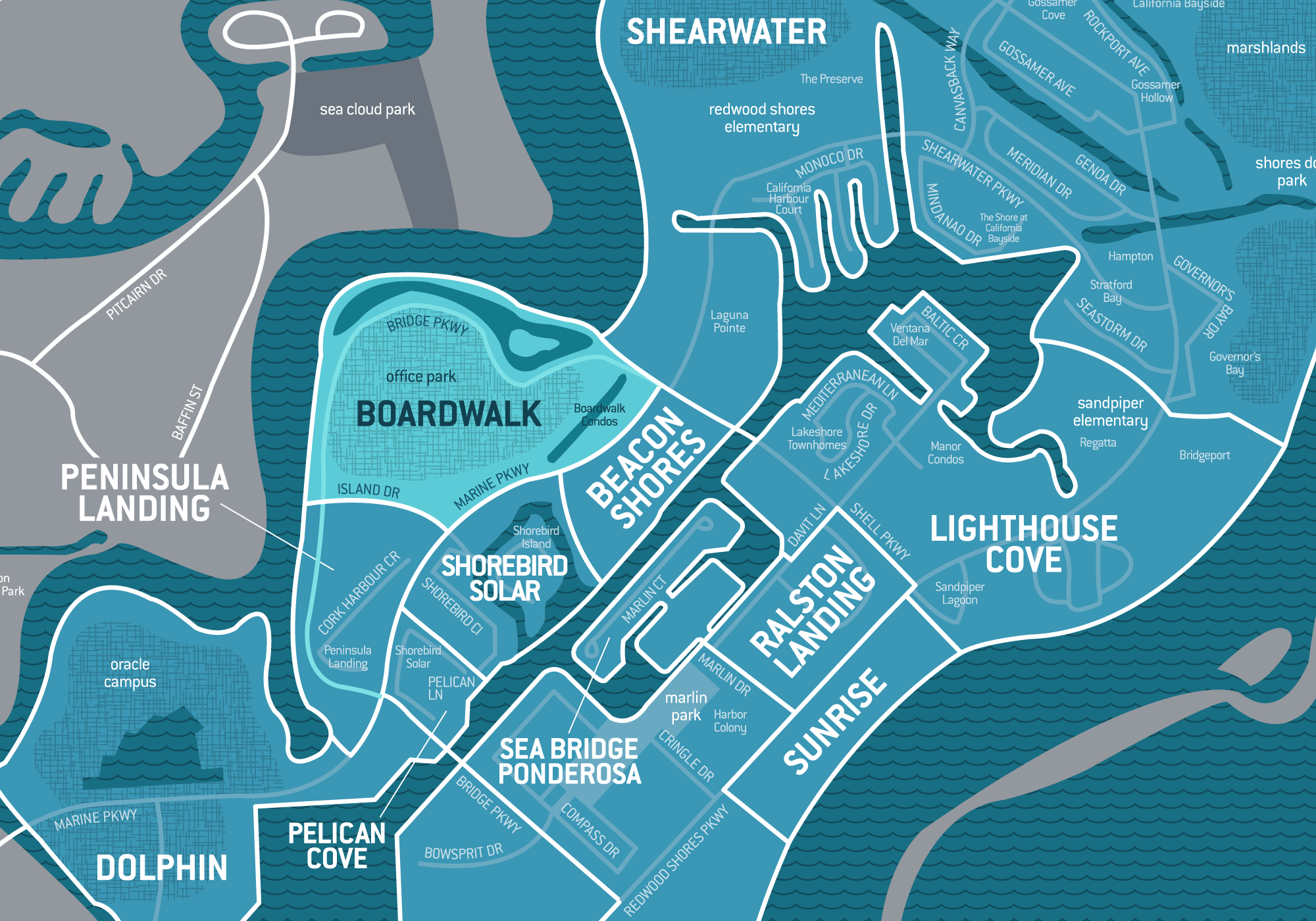 The complex spreads out from there, several three-story buildings with horizontal wood siding painted light gray, oriented around a central lagoon. Two pedestrian bridges span the 80-foot-wide body of water, connecting residents of Boardwalk Place with the community club house and pool and the walking and biking paths that separate the rear of the complex from Bridge Parkway and a large series of office parks. That these commercial sites house many established and up-and-coming high-tech businesses is a perk for Boardwalk residents, many of whom walk to work.
Boardwalk real estate offers many options despite its relatively small overall size. Among Boardwalk's 206 units are five different floor plans ranging in size from 778 to 1,494 square feet. Homes have two or three bedrooms and anywhere from one to two-point-five baths. Most units have private outdoor space and all have views of either water, dense greenery or the bike and pedestrian path. Boardwalk condos range from two-bedroom, one-bath units with under 800 square feet of living space, all the way up to updated, three-bedroom, three-bath home with almost 1,500 square feet of space. Homes are available for as little as $800,000 - $900,000, but can range in price up to the mid $1 millions. Monthly Homeowners Association dues range between $350 and $500.
Once one of Redwood Shores' shiny new condominium communities, Boardwalk has carved out its place in the community as an attractive option for homebuyers looking for convenience, security and good amenities at an entry-level price.
To view a detailed google map of the Boardwalk neighborhood, click here. The MLS area is 377.
Home Data
per tax records
| | |
| --- | --- |
| Single Family Homes | |
| 1 Bedroom Homes | 0 |
| 2 Bedroom Homes | 0 |
| 3 Bedroom Homes | 0 |
| 4 Bedroom Homes | 0 |
| 5+ Bedroom Homes | 0 |
| Condos/Townhomes | 342 |
| Duplex | 0 |
Price Data
| | |
| --- | --- |
| Year | 2021 |
| Number of Sales | 8 |
| Percent List Price Received | 103.4% |
| Median Sales Price | $898,000 |
| Average Sale Price | $1,049,000 |
| Lowest Sale Price | $870,000 |
| Highest Sale Price | $1,428,000 |