April 2023 - Market Update🏡
Hello everyone!

With the end of the first quarter of the year, we are seeing some signs of stability in the market. Yes, prices are lower than 12 months ago, yes, interest rates are up and been about the same more or less since the fall, but we're seeing some life with new buyers entering the marketplace and the number of transactions trending upwards. Just in the last week, I wrote three offers representing buyers, and all were very competitive. Two were in the $1 million range and had three and six offers with less than a week on the market, and sold over asking. In the middle of last week, on a listing in the $2 million range, we received six offers and the home sold significantly over the asking price. And over the weekend, I wrote an offer close to $6 million, and two of the three offers received were all cash with closes of five days to a week.
My takeaway for the best real estate, is that buyers are willing to compete. That being said, I just haven't see a lot of quality come on the market this year, and by quality, I mean something I'd give an "A" to for location, condition, and floorplan. Buyers will step up and get what they want if the home feels compelling.
Please read on below for my interpretation of some fascinating just released statistics, and if you have questions about what you're seeing out there or I can be a resource for you, please reach out to me via the Contact page.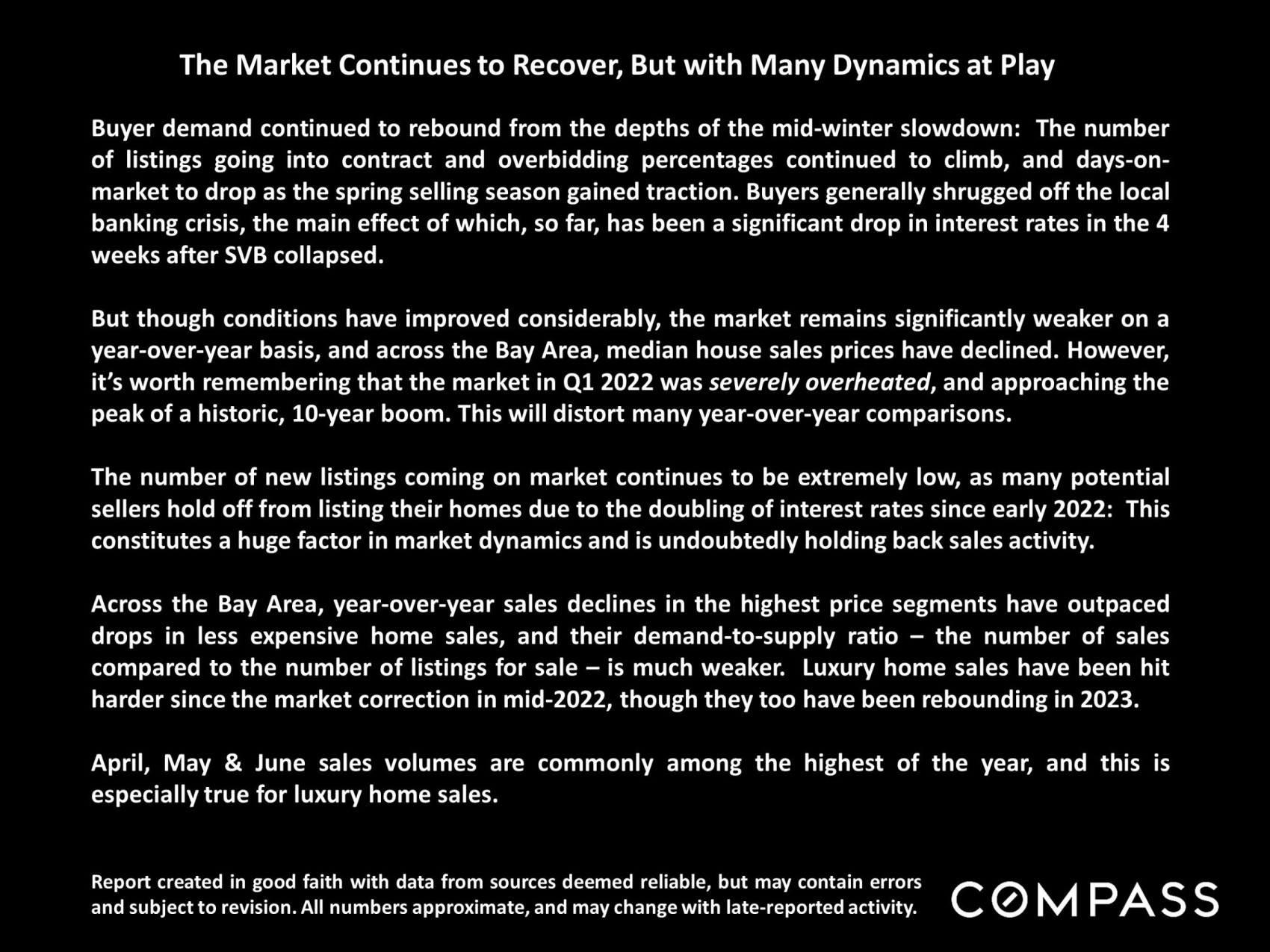 In the two slides below, we can see a positive sign of an increase in accepted offers. However, the number of new listings is down significantly from what we'd usually see at this time of the year, compared to the last two years. And of course, March 2020 was when covid hit, so not too reasonable to consider that month as "normal".
Below, we can see an uptick in more homes selling over asking. This says to me we are less likely to see a meaningful further drop in prices. It also tells me that more sellers are being realistic with their asking prices than we saw at the end of last year, and that more buyers are feeling the asking prices are fair, therefore bidding them up. We can see in March that a little more than 40% of listings sold over asking.
Not surprisingly, the Spring market is when inventory typically reaches its highest point of the year. So while we've seen a slight increase from last month, we are slightly ahead of last year at the same time, suggesting that in some towns, many homes that are coming on the market are still not selling, and other towns existing inventory is being purchased fairly quickly. This means that sellers need to be attractively priced to get their homes sold otherwise they'll be sitting.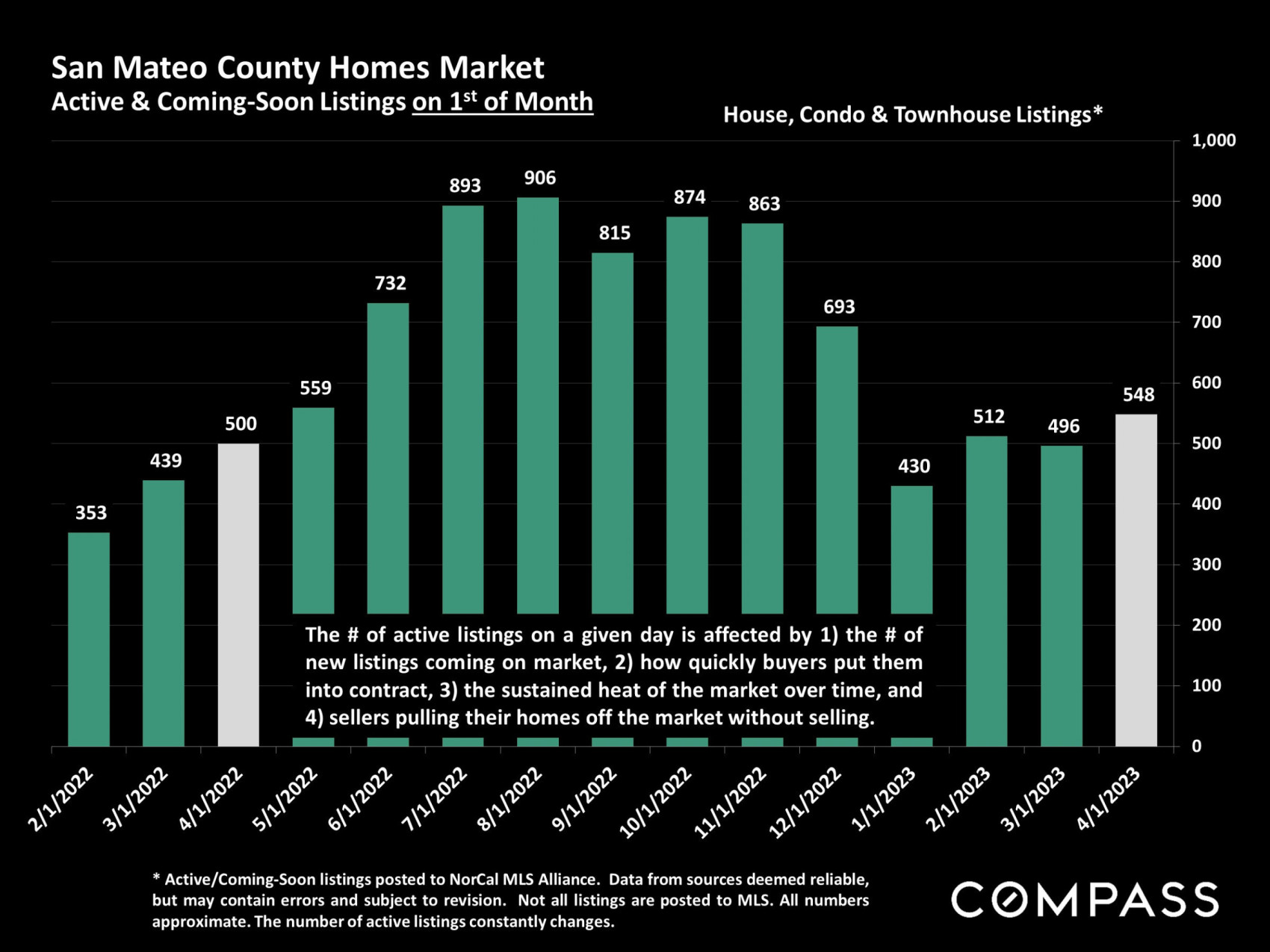 For example, in the below towns, take a look at this data for how many homes are for sale now, vs how many are pending. Some towns are experiencing more sales than others, presumably due to price point.

Burlingame - 22 for sale, 8 in contract
Hillsborough - 26 for sale, 8 in contract
San Mateo - 38 for sale, 24 in contract
San Carlos - 27 for sale, 22 in contract
Belmont - 9 for sale, 11 in contract
Redwood City - 39 for sale, 28 in contract
Redwood Shores - 3 for sale, 2 in contract
Foster City - 10 for sale, 2 in contract
South San Francisco - 12 for sale, 13 in contract

Daly City - 24 for sale, 26 in contract
San Bruno - 11 for sale, 11 in contract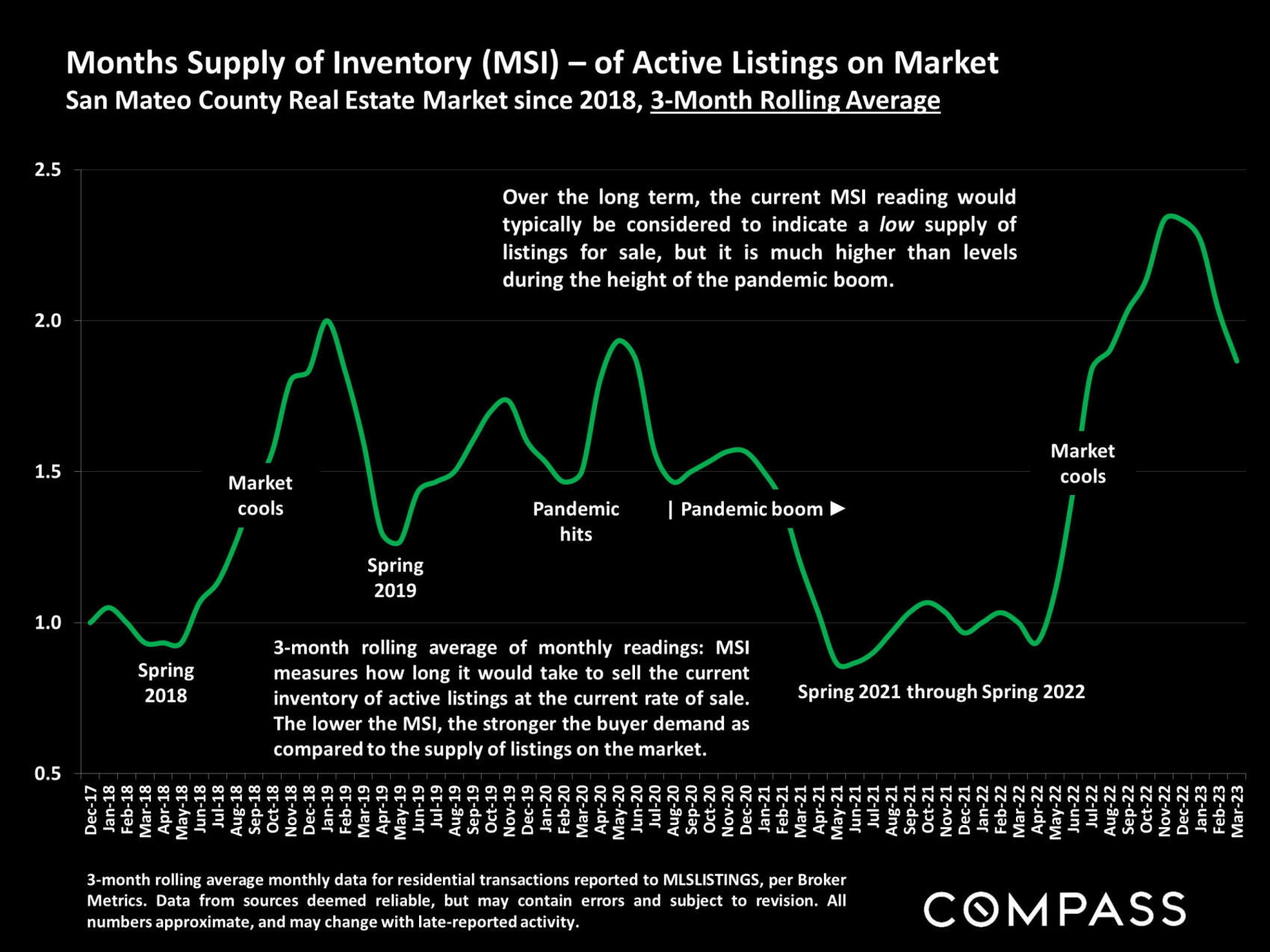 We've seen median pricing in the last three quarters be relatively consistent:

Q2 2022: $2,229,180 - prices dropped
Q3 2022: $1,886,800
Q4 2022: $1,835,000
Q1 2023: $1,855,000
So for anyone who in Q3 last year after the prices dropped who was thinking about buying, the last six months of data should be encouraging that prices have leveled off.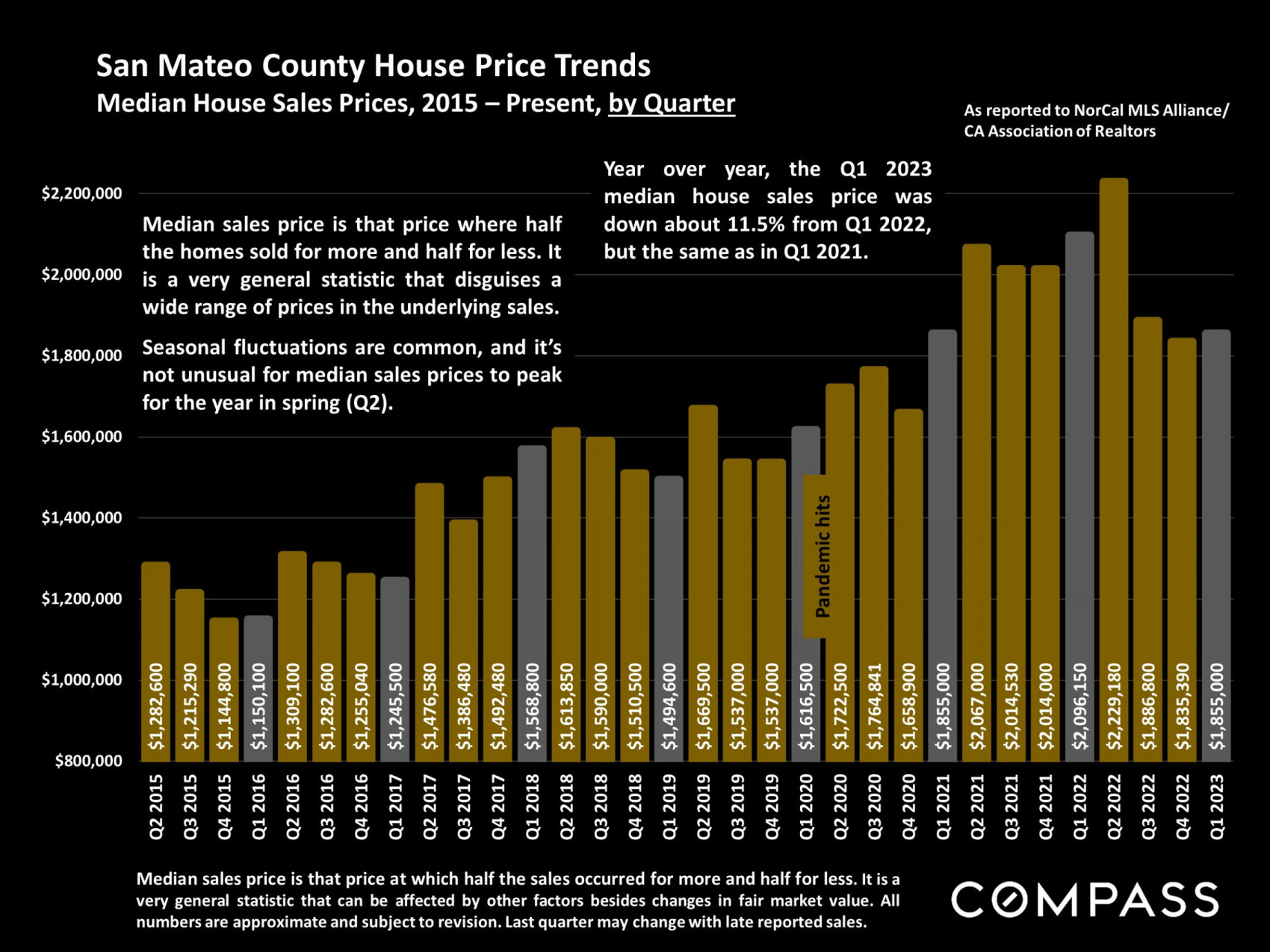 If we take a look at condos below, we can see similar data tracking as single family homes. Median prices are now higher at the end of Q1 than they were at the end of the two previous quarters before that.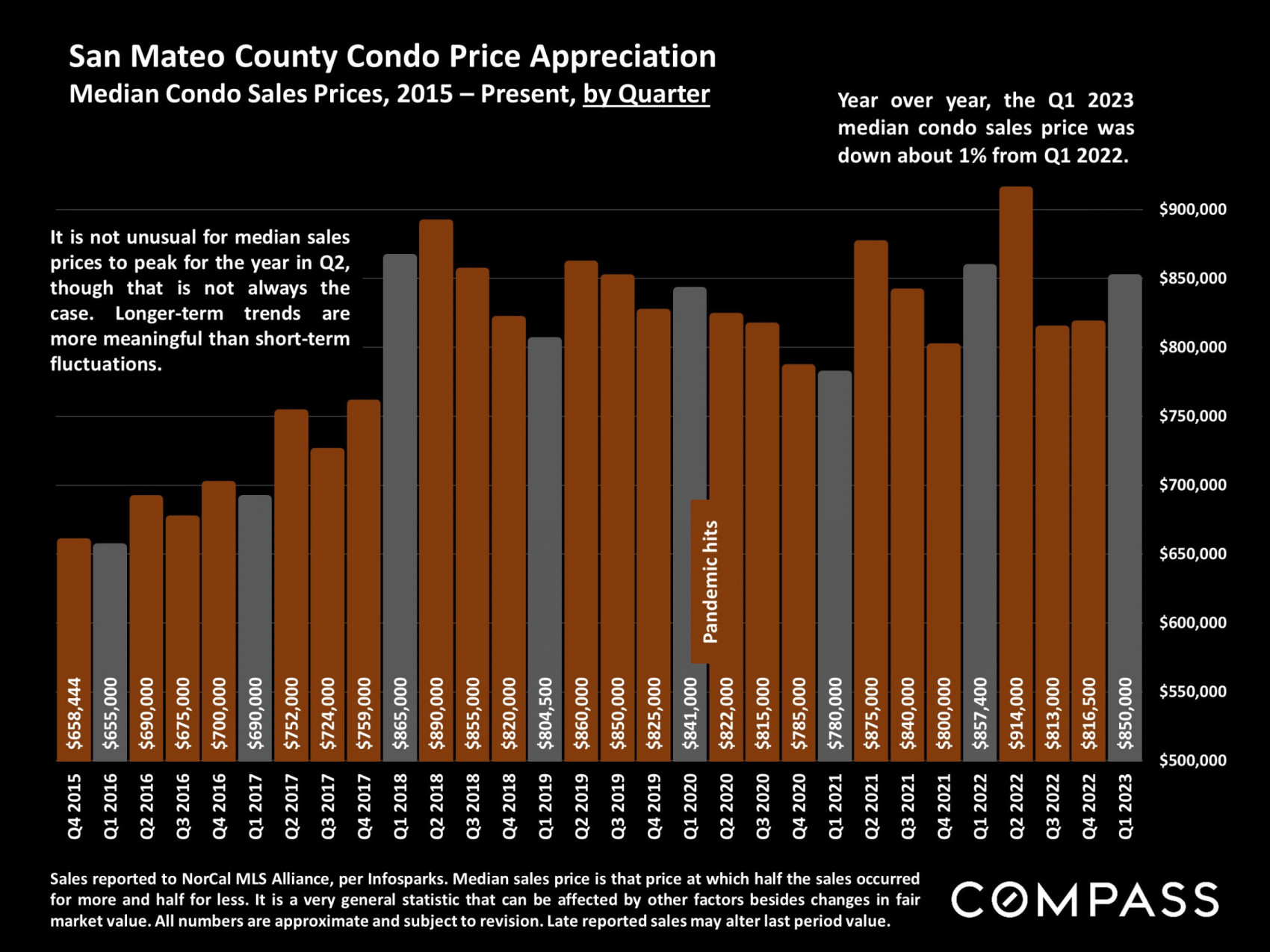 Many of you are very familiar with interest rate fluctuations nowadays since it seems like they're national headlines multiple times a week. Rates are down a little from the Silicon Valley Bank collapse last month. My observation is that the buyers in the marketplace are very serious and will buy when they find the "right" home that checks a meaningful number of boxes.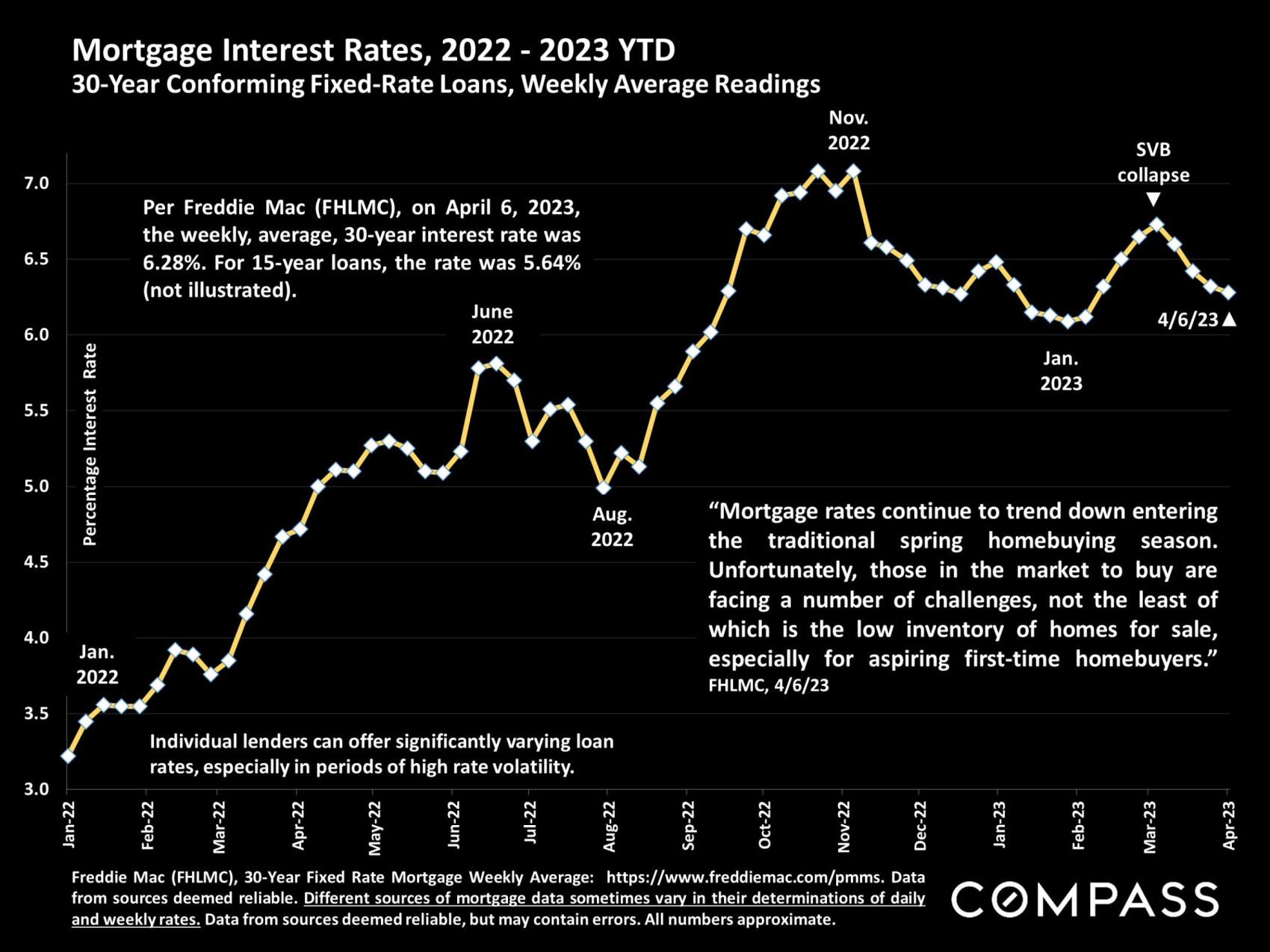 Following the sales of luxury homes which is roughly defined as $5 million and up is a fascinating bellwether of sentiment for confidence at the higher price points. My personal observation is luxury homebuyers have plenty of discretion and are willing to be patient to find the right home, and most already own homes that they are comfortably enjoying already. They may wish to upgrade to a larger home that aligns with their vision of more space, or a bigger lot, or higher end finishes, and will pay top dollar for a home that meets their needs, especially with peninsula real estate being a stable asset class for long term wealth preservation. And not to mention, real estate is an incredible hedge against inflation.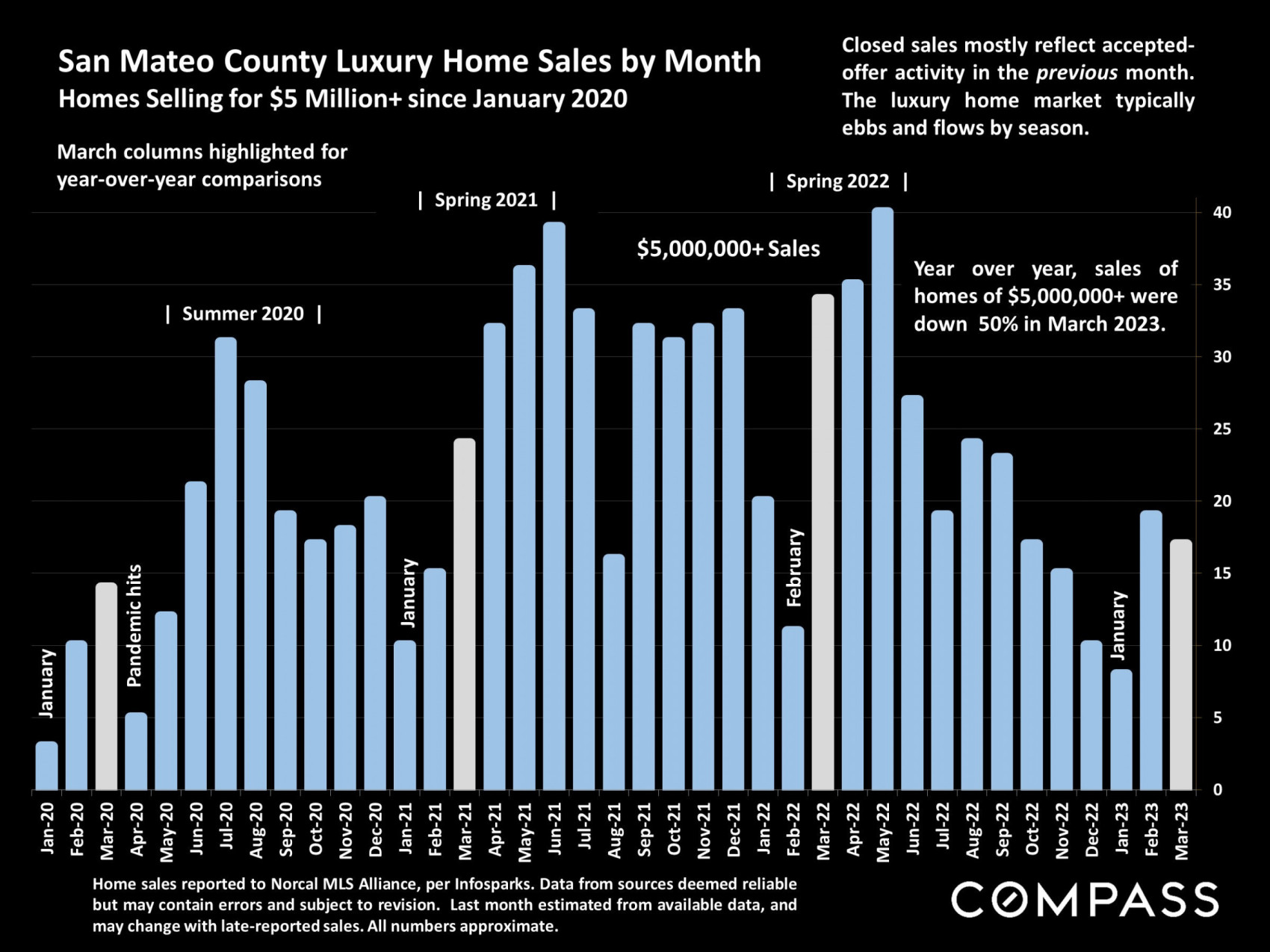 This article is copyrighted by Raziel Ungar and may not be reproduced or copied without express written permission.
Like this story? Share it with others.