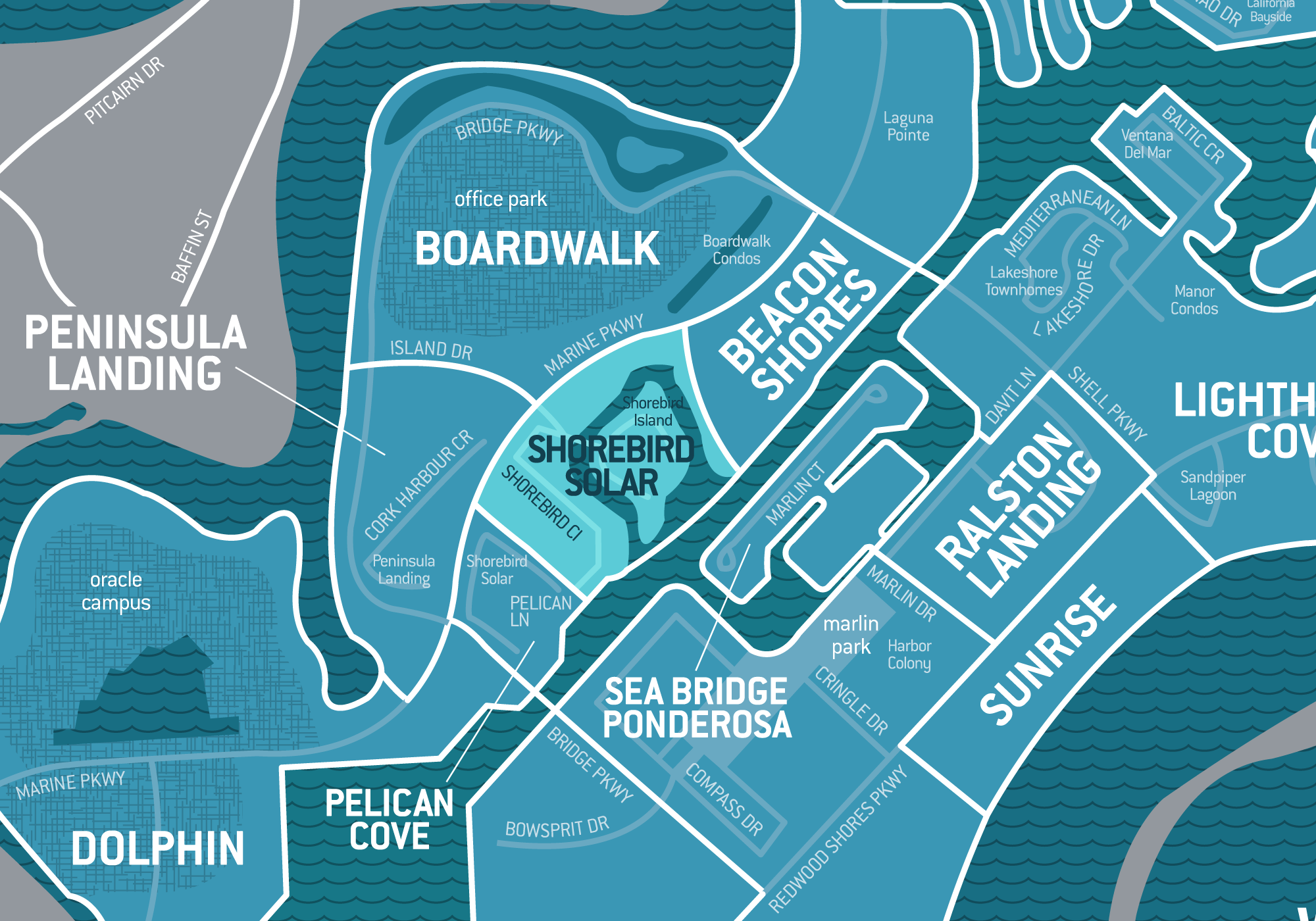 Both communities are unique; Shorebird Solar offers some of the largest condominium homes in Redwood Shores, with two- and three-bedroom units ranging in size from less than 1,000 to almost 1,800 square feet. Many have outdoor balconies with water views. Homes were built between 1980 and 1988 and are modern in style, white stucco mid-rise buildings with clean, contemporary lines. Recent sales of Shorebird Solar homes have ranged in price from under $1 million to slightly over $1 million ($900,000 to $1.1 million), depending on size and location. Homeowners Association Fees are more than $400 per month and the complex has two swimming pools, a clubhouse, secured parking and a boat dock.
Shorebird Island is another thing entirely. Its 52 homes aren't the largest in Redwood Shores but they may be the most desirable. It is accessible via a bridge on Island Drive and oriented around a central green space, Shorebird Park, so every home on Shorebird Island either backs up to the lagoon or Shorebird Park. Lagoon-facing homes have private boat docks; no one has a rear neighbor.
Shorebird Park homes for sale fetch anywhere from $1.5 to at or near $2 million, with water-facing homes selling for $2 million and up. The two-story New England-style residences have three or four bedrooms and approximately 2,200 to 2,500 square feet of living space.
Two waterfront communities offering very different lifestyles at very different price points; that's Shorebird Park/Marina Point, one of Redwood Shores' most distinctive districts.
To view a detailed google map of the Shorebird Solar/Marina Point neighborhood, click here. The MLS area is 375.
Home Data
per tax records
| | |
| --- | --- |
| Single Family Homes | |
| 1 Bedroom Homes | 0 |
| 2 Bedroom Homes | 0 |
| 3 Bedroom Homes | 33 |
| 4 Bedroom Homes | 19 |
| 5+ Bedroom Homes | 0 |
| Condos/Townhomes | 192 |
| Duplex | 0 |
Price Data
| | |
| --- | --- |
| Year | 2021 |
| Number of Sales | 15 |
| Percent List Price Received | 104.8% |
| Median Sales Price | $1,200,000 |
| Average Sale Price | $1,083,000 |
| Lowest Sale Price | $690,000 |
| Highest Sale Price | $1,350,000 |