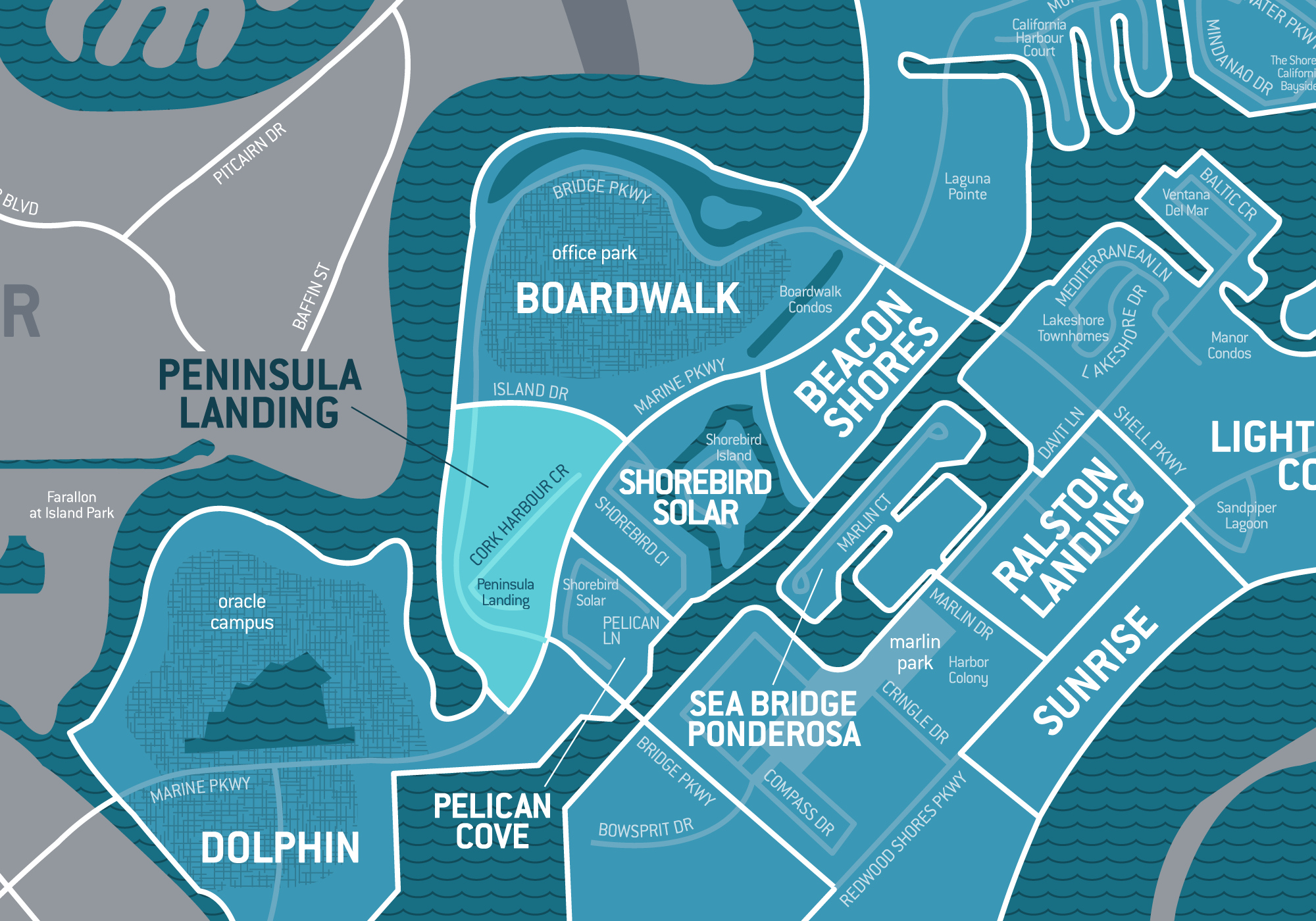 The complex includes 17 low-rise buildings, arranged around green areas and man-made streams. A greenbelt with a pedestrian/bike path separates Peninsula Landing from a large office park to the north. The Redwood Shores branch library is just across Bridge Parkway to the west of the development. Homes are attractive, with open floorplans. Many have private outdoor space and/or balconies.
Peninsula Landing real estate is at the low end of the pricing spectrum because Peninsula Landing units are modest in size. The largest, which has three bedrooms and two baths (along with two fireplaces), has 1,465 square feet of space; the smallest, with one bedroom plus a den, has only 824. Homes are split between units with individual garages and ones with carports. It is not unusual to find Peninsula Landing homes for sale available for around $700,000 (for one-bedroom units), $1 million (for two-bedroom units) and $1.3 million (for three-bedroom units).
Peninsula Landing offers an excellent opportunity for first-time buyers, young buyers (often also first-time buyers) and tech workers looking for a location convenient to their jobs. The commute for those living at Peninsula Landing and working at Oracle, for example, requires nothing more than a pair of shoes. Shopping and dining at The Marketplace are less than a mile away, as is the nearest entrance to the Bayshore Freeway, U.S. 101.
To view a detailed google map of the Peninsula Landing neighborhood, click here. The MLS area is 376.
Home Data
per tax records
| | |
| --- | --- |
| Single Family Homes | |
| 1 Bedroom Homes | 0 |
| 2 Bedroom Homes | 65 |
| 3 Bedroom Homes | 45 |
| 4 Bedroom Homes | 23 |
| 5+ Bedroom Homes | 0 |
| Condos/Townhomes | 0 |
| Duplex | 0 |
Price Data
| | |
| --- | --- |
| Year | 2021 |
| Number of Sales | 12 |
| Percent List Price Received | 102.9% |
| Median Sales Price | $963,000 |
| Average Sale Price | $959,000 |
| Lowest Sale Price | $750,000 |
| Highest Sale Price | $1,180,000 |