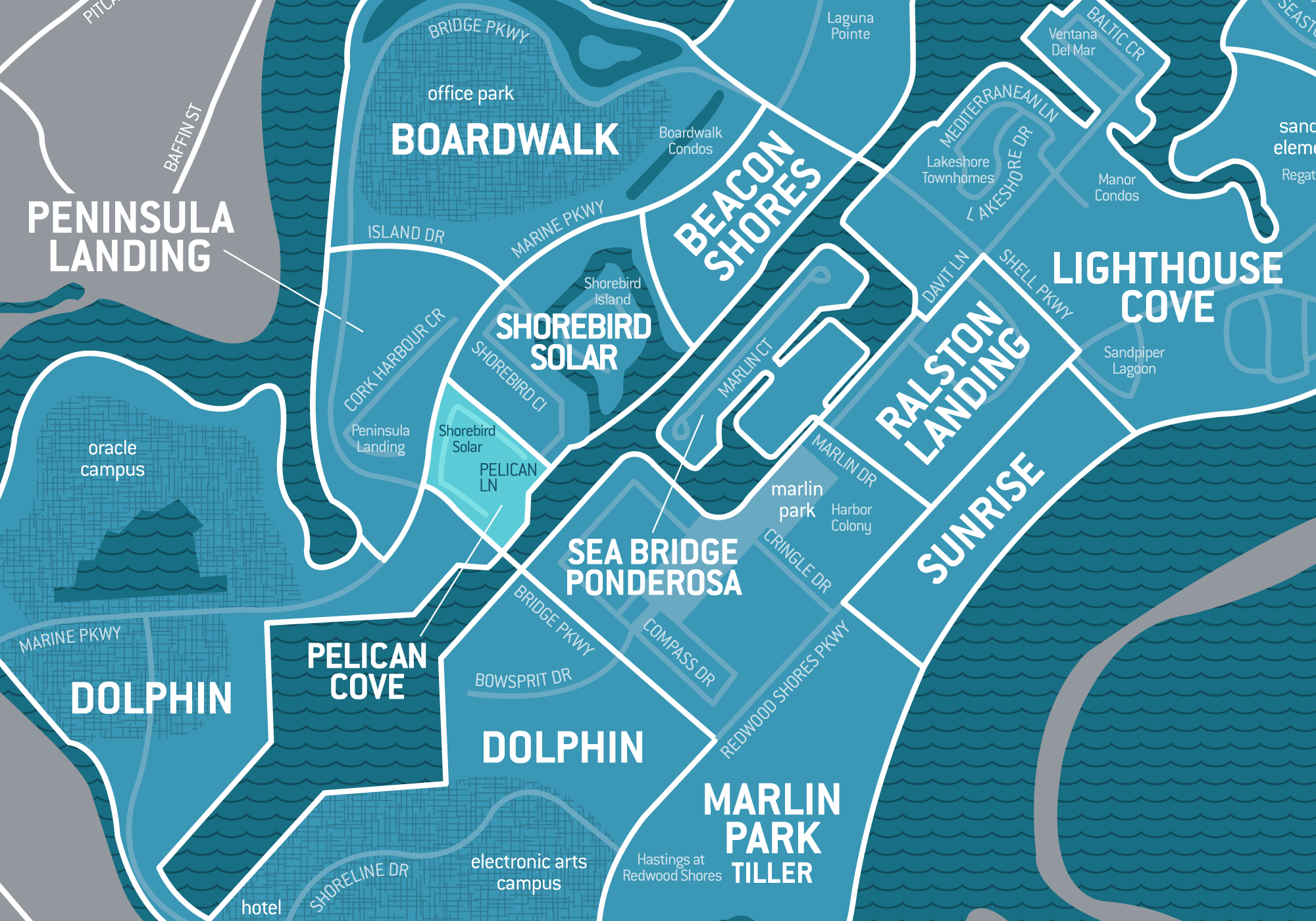 Pelican Cove was built in two phases, in 1983 and 1985. Its exterior facades are consistent with that time – white, stucco Mediterranean and brown shingle-sided buildings. Most units have outdoor balconies – some overlooking the lagoon. Units range in size from one to two bedrooms plus lofts, with anywhere from 800 to 1,400 square feet of living space. Over time, some units have been expanded. There are, within the Pelican Cove "neighborhood," a mind-blowing 16 floorplan options.
Because they are exclusively condominiums, Pelican Cove condos command far lower prices than the Redwood Shores median. While they have increased in value along with the rest of Redwood Shores, Pelican Cove properties can still be had for less than $1 million. Recent two-bedroom sales fetched between $800,000 and $1.1 million, one bedrooms for less than that. Homeowners Association dues run from around $400 to $600 monthly, depending on a unit's square footage.
The upside of the HOA is that Pelican Cove offers all of the amenities of a large-scale condominium development, including multiple swimming pools, a clubhouse and boating facilities. The complex is a short drive from the Bayshore Freeway and within walking distance of Marine View Park, as well.
To view a detailed google map of the Pelican Cove neighborhood, click here. The MLS area is 373.

Home Data
per tax records
| | |
| --- | --- |
| Single Family Homes | |
| 1 Bedroom Homes | 0 |
| 2 Bedroom Homes | 0 |
| 3 Bedroom Homes | 0 |
| 4 Bedroom Homes | 0 |
| 5+ Bedroom Homes | 0 |
| Condos/Townhomes | 162 |
| Duplex | 0 |
Price Data
| | |
| --- | --- |
| Year | 2021 |
| Number of Sales | 7 |
| Percent List Price Received | 107.9% |
| Median Sales Price | $1,090,000 |
| Average Sale Price | $1,026,000 |
| Lowest Sale Price | $702,000 |
| Highest Sale Price | $1,150,000 |