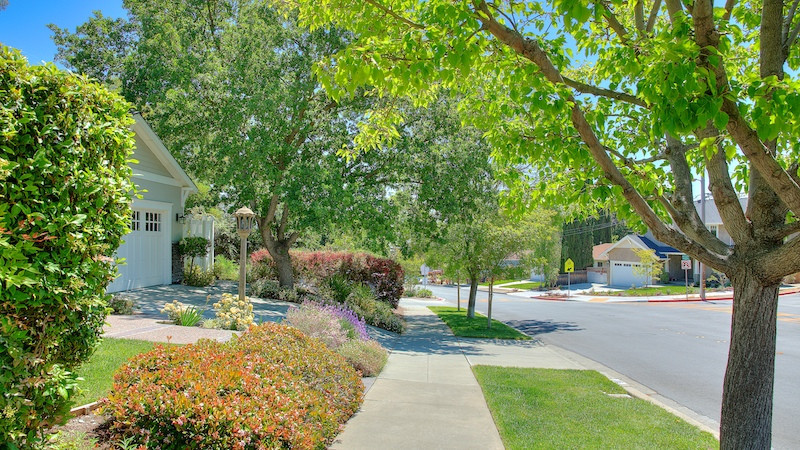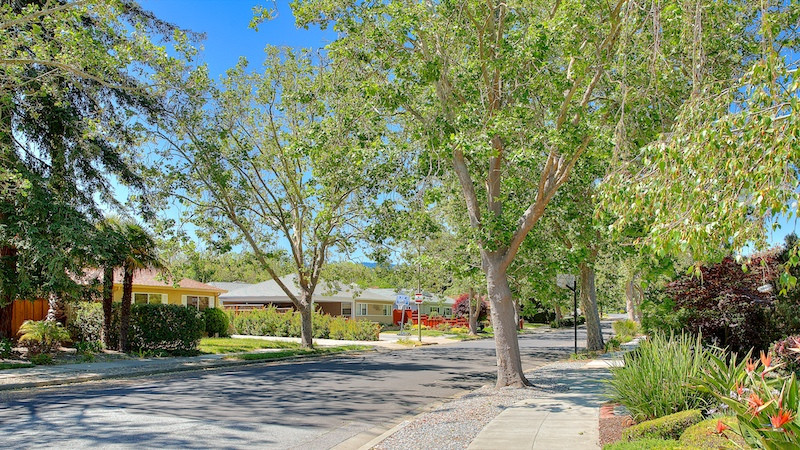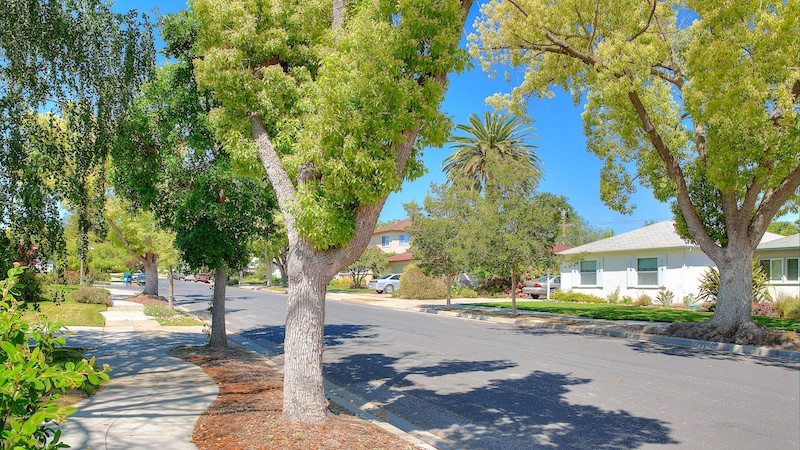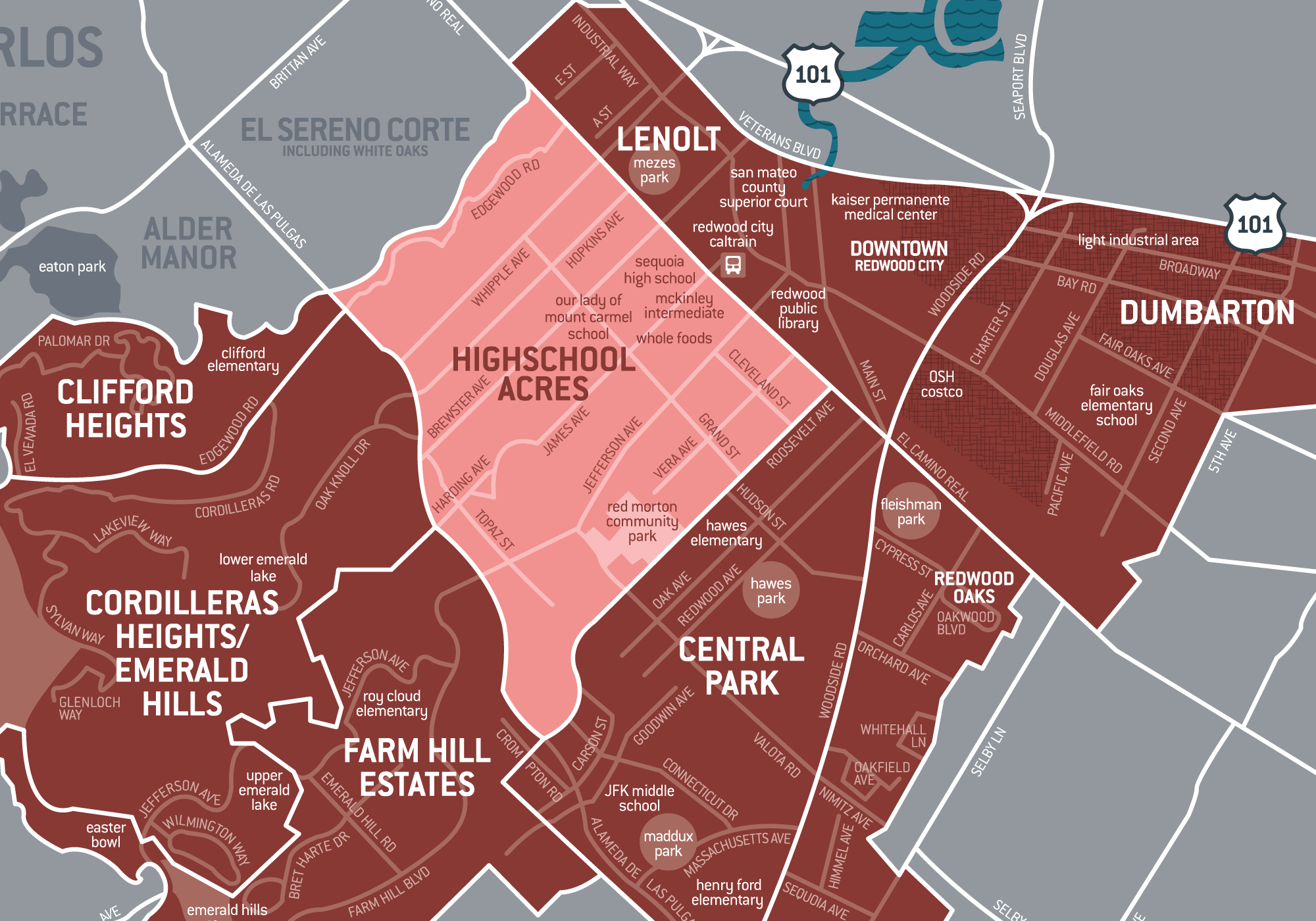 Sequoia High School did not spring up, fully-formed at its present site. It opened first in 1895, in a building downtown, the present site of the Fox Theater, and then moved to a spot at Broadway and Middlefield Road in 1904. The school didn't move to its 1201 Brewster Avenue site until 1924. From that point onward, Sequoia, with its imposing Spanish architecture and beautiful grounds including a Japanese tea garden and a Sequoia grove, until 1924. Prior to that, the land was part of an estate owned by Horace Hawes, a lawyer who wrote the legislative piece that created San Mateo County.
Hawes' was only one of many estates located west of El Camino Real before the 1906 San Francisco Earthquake. The earthquake was a catalyst for growth in San Mateo County. With so many shaken San Franciscans coming south, looking for solid ground, Redwood City's original landowners felt compelled to subdivide. Growth did not happen overnight, but remnants of the town's early expansion are clearly visible in High School Acres neighborhoods like Mount Carmel and Wellesley Park.
Mount Carmel
A rarity among Oak Knoll/Redwood Park real estate, Mount Carmel, with its combination of smaller 1920s bungalows, Mediterraneans and English-style houses and 1940s and 50s ranchers, is within reach for mid-level homebuyers. Mount Carmel homes for sale range in price from the low $1.5 to $2 million. Homes here are smaller than those found a few streets to the north, with two or three bedrooms and less than 2,000 square feet of living space among "original" Mt. Carmel houses. Newer homes, including those built in place of original ones, can be much larger, with two stories and over 2,000 square feet of space. Some original homes have been added onto; many have been remodeled. Mount Carmel, like the rest of Oak Knoll/Redwood Park, is within the boundaries for highly-touted Clifford Elementary School.
Wellesley Park
Wellesley Park, in fact, was Redwood City's first residential development located west of El Camino Real. The Wellesley Land and Improvement Company subdivided 153 lots there in 1889. Not all of the original homes built on land bounded by Edgewood Road, El Camino Real, Arlington Road and Wellesley Circle still stand. Those closest to El Camino lost their battle with commercial development, while others have been replaced by newer residential construction. Still, there is a smattering of large, stately Victorians, Mediterraneans, Colonials and Arts and Crafts homes ringing circular Wellesley Crescent Park.
These homes, some of which push 4,000 square feet of living space, offer a hint of what's to come along Edgewood Road, moving west toward Alameda de las Pulgas. Here you will find Redwood City's original "Millionaire's Row," a small collection of enormous, vintage homes and very large lots, some hidden behind mature trees, many commanding prices north of $2.5 million. A few blocks away, on small blocks connecting Edgewood with Arlington Road, the homes are newer and smaller but still impressive. Here the homes may be newer, built in the 1950s, 1960s, all the way up to the 1980s (with a few new homes mixed in), with three to five bedrooms, considerably more than 2,000 square feet of living space and price tags in the mid- to upper-$1 millions, with a few edging past $2 million.
Together, along with adjacent Mount Carmel, this northern end of High School Acres is called Oak Knoll/Redwood Park. Oak Knoll/Redwood Park real estate is among Redwood City's most desirable because even Mount Carmel, a neighborhood with a median home value under $1 million, has the charming vintage architecture and tree-lined streets of the neighborhood at large and even busy Hopkins Avenue is peppered with a few awe-inspiring Craftsman homes from the early 1900s, part of the now-obscure Dingee subdivision. Those looking for a Burlingame or Menlo Park feel but needing to live in Redwood City will find what they're looking for here.
Roosevelt

The change between Mount Carmel and Roosevelt is almost imperceptible. It comes just south of Brewster Avenue, where Roosevelt's orderly blocks of 1940s and 1950s ranch homes are almost identical to the south end of Mount Carmel. The neighborhood continues in this fashion all the way to its southern border at Roosevelt Avenue, pausing to break up the mid-century consistency with a number of pre-war bungalows and an occasional foray into new construction (often with startling results; some of Roosevelt's new homes are twice the size of their older neighbors). Roosevelt real estate, however, is less expensive than that found in Oak Knoll/Redwood Park, with single-family homes available for less than $500,000. Its high end is also less lofty, topping out just above $1 million.
While Roosevelt's homes aren't often large, they are usually well-kept. Neatly-maintained streets like Johnson and Iris lie adjacent to Red Morton Community Park, the 30-acre public green space that once served as the training headquarters for the San Francisco 49ers. The neighborhood's most inexpensive single-family homes can be found on the streets closest to El Camino Real, along with a number of small, low-rise apartment buildings.
Summary
Redwood City's "original" residential tract, High School Acres has seen plenty of change since the first home was built at Wellesley Park in the late 1880s. Since then it has matured into a multi-faceted district whose centerpieces – Sequoia High School and Red Morton Park – are city icons, and whose diverse housing stock gives homebuyers wishing to live in proximity to Redwood City's reborn downtown plenty of options.
To view a detailed google map of the Highschool Acres neighborhood, click here. The MLS area is 334.
Home Data
per tax records
| | |
| --- | --- |
| Single Family Homes | |
| 1 Bedroom Homes | 14 |
| 2 Bedroom Homes | 583 |
| 3 Bedroom Homes | 1127 |
| 4 Bedroom Homes | 388 |
| 5+ Bedroom Homes | 100 |
| Condos/Townhomes | 116 |
| Duplex | 47 |
Price Data
| | |
| --- | --- |
| Year | 2021 |
| Number of Sales | 18 |
| Percent List Price Received | 111.1% |
| Median Sales Price | $1,915,000 |
| Average Sale Price | $2,212,000 |
| Lowest Sale Price | $1,665,000 |
| Highest Sale Price | $3,650,000 |