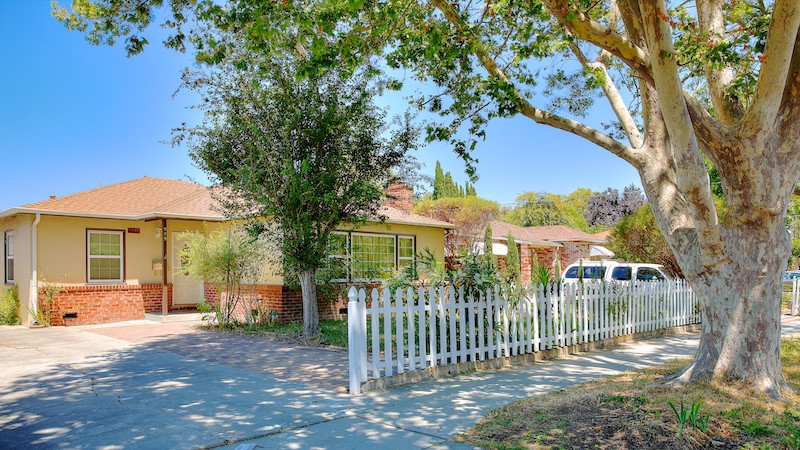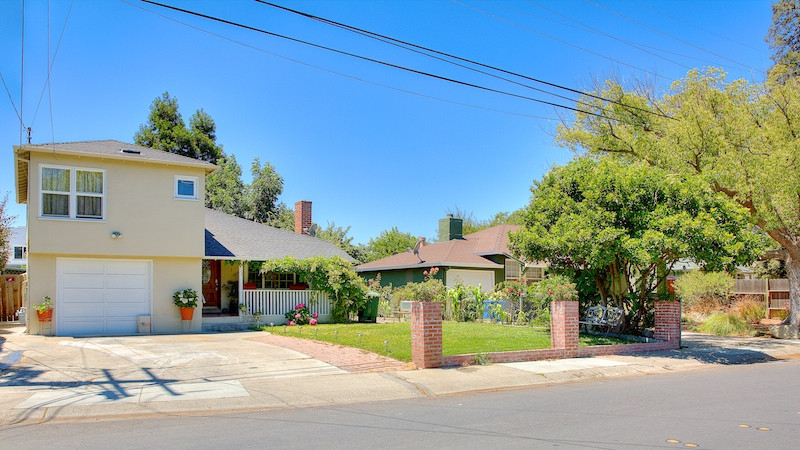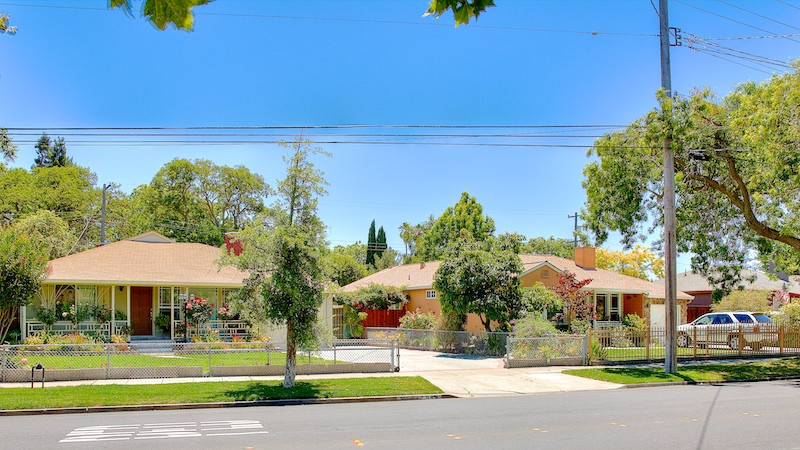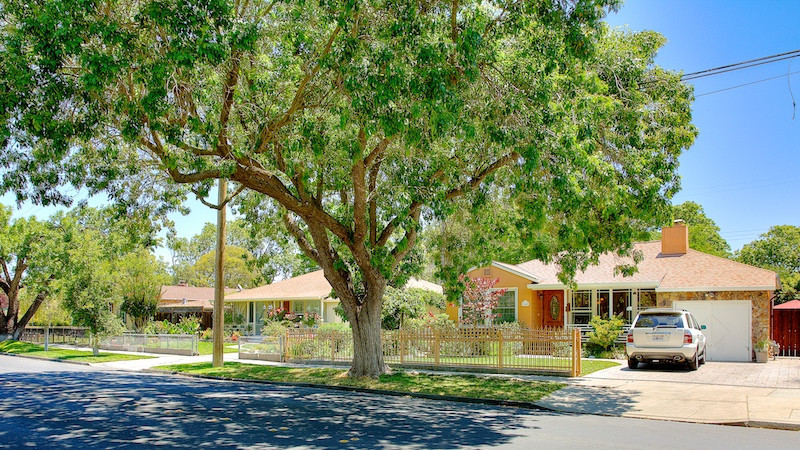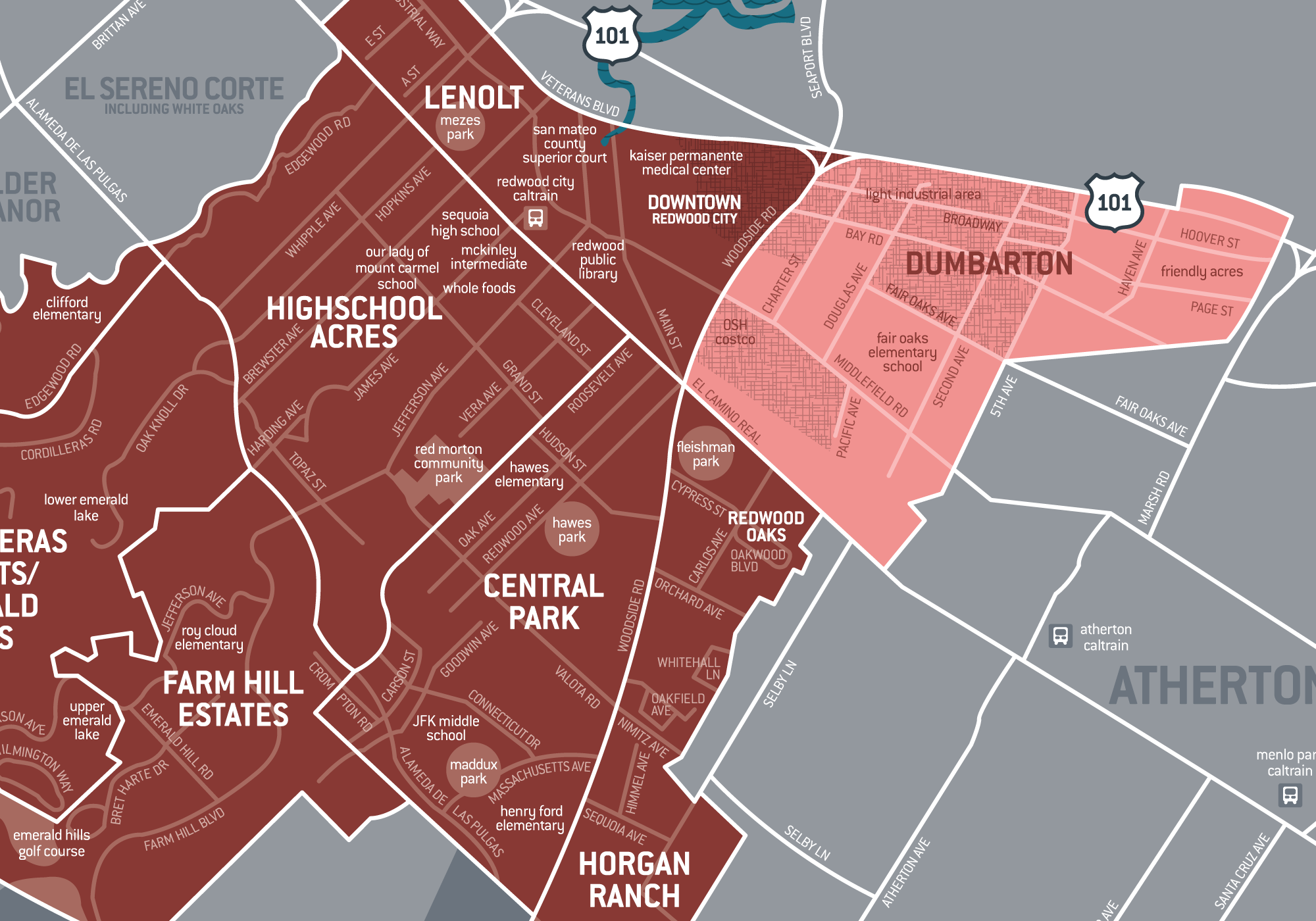 Cost-wise, Dumbarton real estate falls squarely into the bottom end of the Redwood City market, with homes selling for post-recession prices that undercut most Peninsula neighborhoods literally by hundreds of thousands of dollars. A recent check of the MLS showed active single-family Dumbarton homes for sale priced at or below $1 million.
Fair Oaks, located adjacent to (and oddly north of – the "original" Fair Oaks changed its name to "Atherton" after an attempted annexation by Menlo Park in 1923) North Fair Oaks, is the site of the Fair Oaks Community Center, the Fair Oaks Branch of the Redwood City library and a variety of businesses, restaurants and shops along Middlefield Road. Fair Oaks real estate is a hodge-podge of single-family homes built anywhere from the 1920s to the 1980s and low-rise apartments buildings of similar vintages. Some SFHs are almost amazingly tiny, with as little as 700 square feet of living space, and can have one, two, three or four bedrooms.
Redwood Village is large – almost one square mile in size – and occupies Dumbarton's northeast corner. It is bordered by the freeway, Woodside Road, the railroad tracks across Middlefield Road and Fair Oaks. Its boundaries include shops and restaurants on Middlefield Road, Summit Prepatory Charter High School and Hoover Park. Housing is inexpensive, but a majority of residents live in rental units, be those one- and two-bedroom apartments or in small, one- and two-story homes, most of which were built after World War II. The eastern edge of Redwood Village is comprised of light industrial buildings.
Dumbarton Park, the neighborhood from which the overall neighborhood gets its "official" name, is one of the denser parts of Redwood City, thanks to a high inventory of multi-unit residential buildings. Dumbarton Park real estate falls in line with the rest of Dumbarton, staking its claim as Redwood City's most affordable. Single-family homes can be easily had for significantly less than $1 million, though many are very small, with less than 1,000 square feet of living space and one or two bedrooms. Homes and apartment buildings were built at any point between World War I and the 1980s, with the majority of the latter appearing during the 1960s.
After experiencing a long downturn during the early 2010s, Fair Oaks, Redwood Village and Dumbarton have all rebounded to the point where $1 million properties are no longer a novelty but the neighborhoods' still-available inventory of sub-$1 million single-family homes make them an oddity -- and a bargain -- in today's overheated Peninsula market.
To view a detailed google map of the Dumbarton neighborhood, click here. The MLS area is 330.

Home Data
per tax records
| | |
| --- | --- |
| Single Family Homes | |
| 1 Bedroom Homes | 45 |
| 2 Bedroom Homes | 1030 |
| 3 Bedroom Homes | 874 |
| 4 Bedroom Homes | 132 |
| 5+ Bedroom Homes | 42 |
| Condos/Townhomes | 65 |
| Duplex | 436 |
Price Data
| | |
| --- | --- |
| Year | 2021 |
| Number of Sales | 6 |
| Percent List Price Received | 110.0% |
| Median Sales Price | $1,074,000 |
| Average Sale Price | $1,090,000 |
| Lowest Sale Price | $820,000 |
| Highest Sale Price | $1,420,000 |