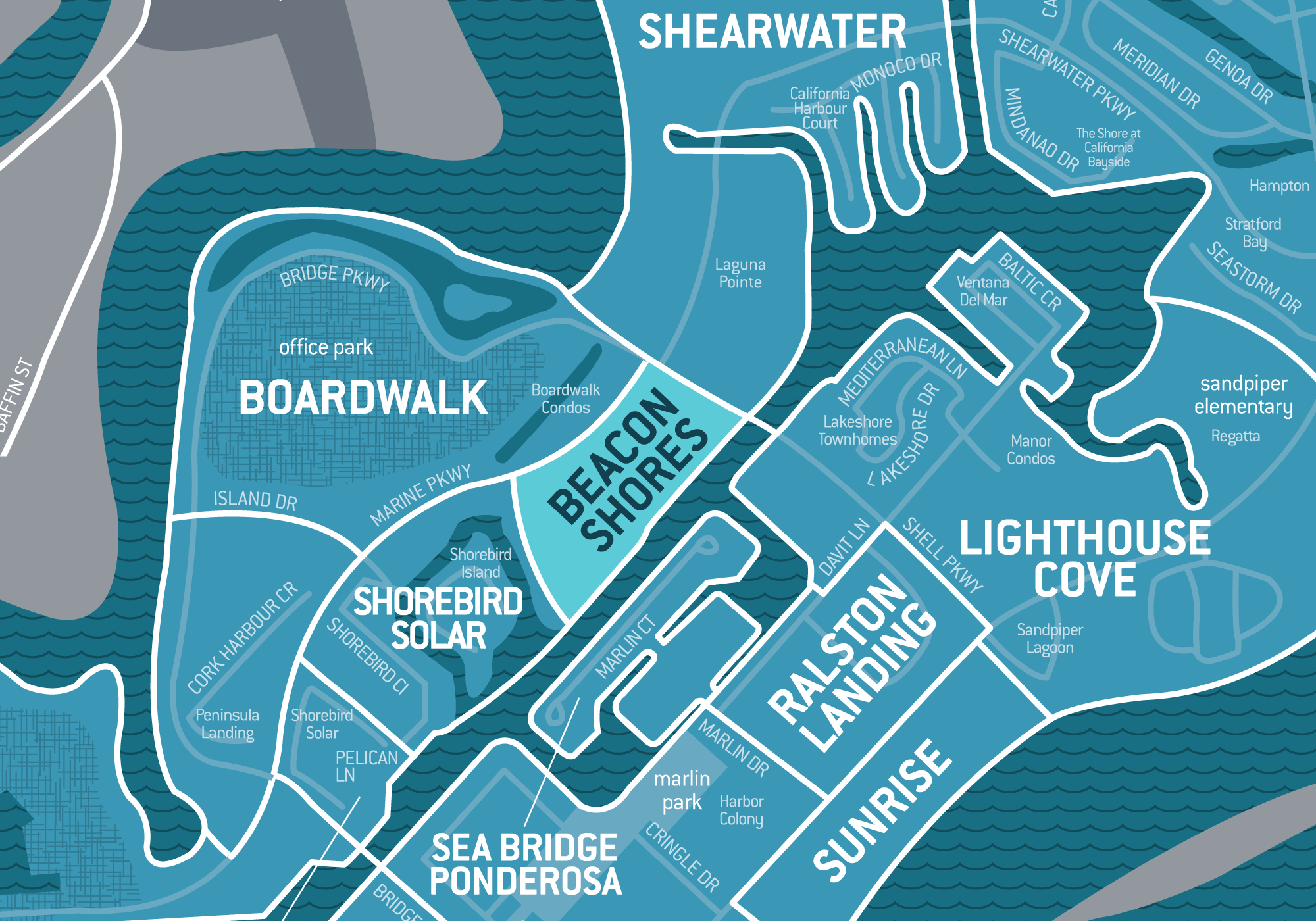 Like many Redwood Shores districts, Beacon Shores the neighborhood is indistinguishable from Beacon Shores the subdivision. Constructed in the mid-1980s (between 1984 and 1987), Beach Shores is made up of 174 homes, distinguishable by nine separate floorplans which, interestingly, given the development's New England-centric theme, are named after waterfront towns – in California. One- and two-story homes have two to four bedrooms and range in size from 952 s/f up to 1,750 s/f. Homes located on Redwood Shores Lagoon have private docks.
Time has been kind to Beacon Shores. What were small saplings planted along Sea Cliff, Starfish and Commander Lanes have grown into mature trees, giving the neighborhood a shady, leafy atmosphere consistent with its New England-style houses. Many homes have white picket fences in front, adding to the Norman Rockwell-esque vibe. Perhaps this is why Beacon Shores, despite its smallish homes, has become one of Redwood Shores' most desirable neighborhoods. Beacon Shores homes for sale start at around $1.4 million (for a two-bedroom home) and range up to $2.5 million (for a remodeled three-bedroom home on the water). The neighborhood is also close to the new Redwood Shores Elementary School, which began operations during the 2010-2011 school year, serving 200 students in grades K through 4, and features a community pool and spa.
To view a detailed google map of the Beacon Shores neighborhood, click here. The MLS area is 374.

Home Data
per tax records
| | |
| --- | --- |
| Single Family Homes | |
| 1 Bedroom Homes | 0 |
| 2 Bedroom Homes | 105 |
| 3 Bedroom Homes | 42 |
| 4 Bedroom Homes | 27 |
| 5+ Bedroom Homes | 0 |
| Condos/Townhomes | 0 |
| Duplex | 0 |
Price Data
| | |
| --- | --- |
| Year | 2021 |
| Number of Sales | 7 |
| Percent List Price Received | 122.1% |
| Median Sales Price | $1,680,000 |
| Average Sale Price | $1,814,000 |
| Lowest Sale Price | $1,618,000 |
| Highest Sale Price | $2,510,000 |