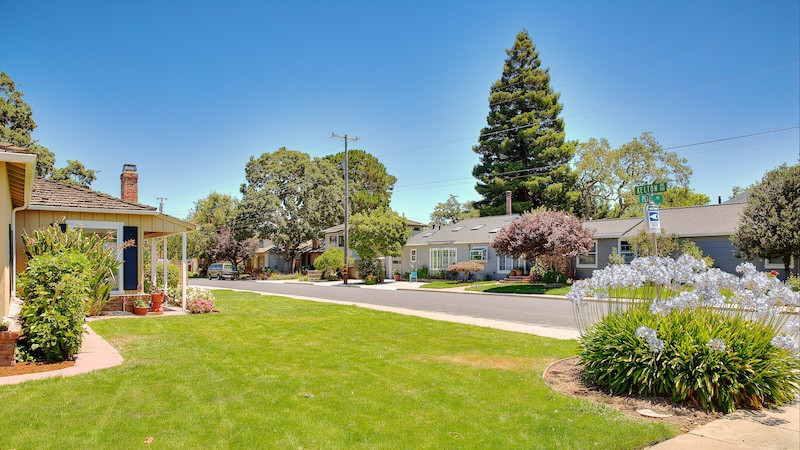 Technically speaking, the White Oaks neighborhood begins just south of Belmont Avenue, while the area between Belmont Avenue and Brittan Avenue is called Oak Park.
There are many reasons for White Oaks' popularity. The neighborhood's location – a short walk from downtown and Laurel Avenue, Burton Park and Caltrain, and convenient to Highway 101 – is a selling point, and so is its inventory of pre-war homes, most of them restored and remodeled by recent owners. White Oaks Elementary School is one of the state's most well-regarded public schools and the neighborhood's tree-lined residential blocks rival those of Burlingame and Menlo Park.
White Oaks real estate is comprised of street after street of bungalows built mostly between 1920 and 1950, with a sprinkling of newer homes at the neighborhood's western edge and a collection of larger residences at its southern border. Homes reflect the traditional styles of their era – English, Arts & Crafts, Mediterranean, early California Ranch – and generally have less than 2,000 square feet, though many have been expanded throughout the years. Homes located "on the creek side" of Eaton Avenue can be as large as 3,000 square feet.
Times have certainly changed. Today, White Oaks homes for sale usually command the highest price per square foot in San Carlos. Small bungalows start at $1.5 million and can range above $2.5 million. Larger homes – including some new, traditionally-styled homes recently added by local builders – can cost more than $3 million. It's not cheap to own a home in White Oaks but the neighborhood's many perks support its steep cost of entry.
To view a detailed google map of the White Oaks neighborhood, click here. The MLS area is 352.
Favorable
Walkable to downtown
Cute, historic homes with lots of charm and character
Gorgeous tree-lined streets, and an ideal neighborhood for trick or treating
Many homes go to White Oaks Elementary, one of the best public schools in the Bay Area
Adverse
Lots are on the smaller side, with many around 4,500 - 5,500 s/f, so you really get to know your neighbors
You'll get less square footage here than in the hills...homes here tend towards the lowest median square footage in town
Home Data
per tax records
| | |
| --- | --- |
| Single Family Homes | |
| 1 Bedroom Homes | 4 |
| 2 Bedroom Homes | 496 |
| 3 Bedroom Homes | 1333 |
| 4 Bedroom Homes | 374 |
| 5+ Bedroom Homes | 75 |
| Condos/Townhomes | 5 |
| Duplex | |
Price Data
| | |
| --- | --- |
| Year | 2021 |
| Number of Sales | 56 |
| Percent List Price Received | 110.1% |
| Median Sales Price | $2,491,000 |
| Average Sale Price | $2,555,000 |
| Lowest Sale Price | $1,630,000 |
| Highest Sale Price | $4,550,000 |